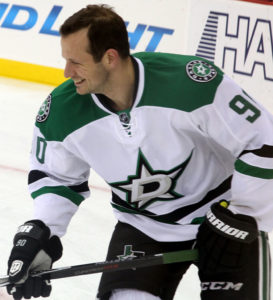 Jason Spezza of Toronto, Ontario is returning to his hometown. Now the veteran NHL centre is having the opportunity to play for his hometown team, the Toronto Maple Leafs. On Monday, Spezza signed a one year contract with Toronto for $700,000.
Last season with the Dallas Stars, Spezza had eight goals and 19 assists for 27 points in 76 games. He was also a -13 with 29 penalty minutes, 12 power play points, 121 shots on goal, 470 faceoff wins, 30 blocked shots, 16 hits, 26 takeaways and 53 giveaways.
The Maple Leafs are Spezza's third National Hockey League team. In addition to playing five seasons with the Stars, Spezza played 11 seasons with the Ottawa Senators.
In 1065 NHL regular season games, Spezza has 332 goals and 583 assists for 915 points. His best NHL season came in 2007-08 with the Senators when he tied a career high with 34 goals and a career high 92 points.
Speaking of the Senators, Ottawa signed left winger Tyler Ennis of Edmonton, Alberta to a one year contract worth $800,000. Last season with the Maple Leafs, Ennis had 12 goals and six assists for 18 points in 51 games. He was one of two players Ottawa signed away from Toronto as they also acquired defenseman Ron Hainsey. Do not be surprised if new Senators head coach D.J. Smith of Windsor, Ontario had something to do with the signings of Ennis and Hainsey, as Smith was the assistant coach of the Maple Leafs the last four seasons.