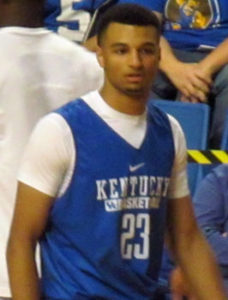 Jamal Murray of Kitchener, Ontario once again exemplified some offensive brilliance in the 2019 National Basketball Association playoffs on Sunday. The point guard who is playing in the NBA Playoffs for the first time in his career, scored 34 points to lead the Denver Nuggets to a 116-112 victory over the Portland Trail Blazers at the Moda Center in Portland, Oregon on Sunday. With the win, the Nuggets tied the series at two games apiece.
The 34 points Murray scored on Sunday matched a playoff career high. Murray also scored 34 points for the Nuggets in their 140-137 loss to the Trail Blazers in game three of their Western Conference semifinal series on Friday. History was made in that game because it was only the second NBA playoff game ever to go to quadruple overtime. The first was back in 1953 when the Boston Celtics beat the Syracuse Nationals 111-105.
In addition to scoring 34 points, Murray had five rebounds and four assists. He was also perfect from the free throw line as he successfully made all 11 of his attempts. Murray was also one of five Nuggets to reach double digits in points. Paul Millsap and Nikola Jokic each had 21 points, while Gary Harris had 14 points and Will Barton had 11 points. Game five of the series is Tuesday evening at the Pepsi Center in Denver.