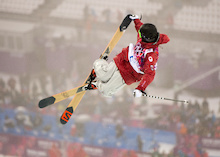 Noah Bowman of Calgary, Alberta won the silver medal in the men's halfpipe freestyle skiing competition in Cardrona, New Zealand on Saturday. It was the opening World Cup men's halfpipe skiing event of the 2019-20 season.
Bowman had a score of 93.4 points. Birk Irving of the United States won the gold medal with a score of 95.6 points. Aaron Blunck of the United States won the bronze medal with 92.8 points. Bowman reached the podium by one point over Brendan Mackay of Calgary, Alberta, who had a fourth place score of 92.4 points. Kexin Zhang of China won the gold medal in the women's halfpipe skiing World Cup event.
This was Bowman's seventh career World Cup medal in men's halfpipe. He previously won gold in Tignes, France on March 22, 2018, silver in Mammoth, California on March 4, 2012, silver in Calgary on January 3, 2014, silver in Copper Mountain, Colorado on December 8, 2017, and bronze in Sierra Nevada, Spain on March 25, 2013 and and bronze in Calgary on February 16, 2019.
This will be the first of five World Cup men's halfpipe events this season. The others are in Copper Mountain on December 13, Secret Garden, China on December 21, Mammoth on February 1 and Calgary on February 14. The silver medal for Bowman will give him confidence as he prepares for the 2022 Olympic Winter Games in Beijing.