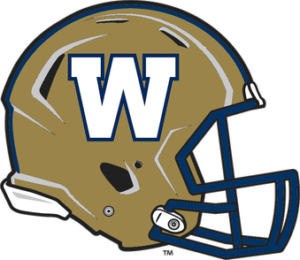 When it was announced that the Winnipeg Blue Bombers would be without running back Andrew Harris of Winnipeg, Manitoba for two games for a positive drug test, many questioned what the Blue Bombers would do for their back to back games against the Saskatchewan Roughriders. Well fellow Canadian running back Johnny Augustine of Welland, Ontario came into the lineup on Saturday and played admirably as he had 75 yards rushing and 63 yards receiving and a touchdown as the Blue Bombers beat the Roughriders 35-10 in the 2019 Banjo Bowl.
Augustine's 138 total yards were a career high. He led the Blue Bombers in receiving and rushing yards. Augustine's touchdown came in the fourth quarter when he had a 58 yard touchdown reception from Chris Streveler which put the Blue Bombers up 34-3 at the time.
Augustine was one of two Canadians on the Blue Bombers to get a touchdown in the win. The other was wide receiver Daniel Petermann of Stoney Creek, Ontario, who had his first touchdown of the season. Petermann found pay dirt on a five yard touchdown catch from Streveler in the second quarter which put Winnipeg up 13-3 at the time.
This was Petermann's second career touchdown. He previously had a touchdown in the 2018 Banjo Bowl in a 32-27 Saskatchewan win. It was also Augustine's second career touchdown. His first came in a 33-24 Winnipeg loss to the Edmonton Eskimos on November 3, 2018.
With the win, the Blue Bombers remain in first place in the Western Division with a record of nine wins and three losses for 18 points. In other week 13 action, the Montreal Alouettes beat the British Columbia Lions 21-16, the Toronto Argonauts beat the Ottawa Redblacks 46-17 and the Calgary Stampeders beat the Edmonton Eskimos 33-17.
In other CFL news, the Hamilton Tiger-Cats have signed running back Tyrell Sutton. The native of Akron, Ohio, played 13 games last season with the Lions and Alouettes. He had 685 yards rushing and three touchdowns and 331 yards receiving. Prior to 2018, Sutton spent five full seasons with the Alouettes and had a career high 1059 rushing yards in 2015.