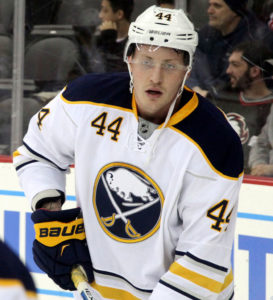 Nicolas Deslauriers of Lasalle, Quebec registered his first career National Hockey League hat trick on Tuesday. Deslauriers scored thrice as the Anaheim Ducks defeated the Ottawa Senators 5-2 at the Honda Center in Anaheim, California.
Deslauriers scored all three of his goals in the first period. In fact, it was a natural hat trick as he scored three goals in a row.
Deslauriers' first goal of the game came at 2:45 of the first period from Carter Rowney of Grande Prairie, Alberta and David Backes to put the Ducks up 2-0. He then scored a game winning goal at 11:17 of the first period from Rowney and Michael Del Zotto of Stouffville, Ontario to put Anaheim up 3-0. Deslauriers' hat trick was at 11:49 of the first period from Backes which put Anaheim up 4-0.
There were four Ducks who had a multi-point game. In addition to Deslauriers, Rowney and Backes had two assists each and Rickard Rakell had one goal and one assist for two points. Jakob Silfverberg also scored for Anaheim.
The hat trick Deslauriers registered on Tuesday could have been considered surprising. That is because heading into the game he only had four goals in 57 games this season with the Ducks. In 374 NHL regular season games with the Buffalo Sabres, Montreal Canadiens and Ducks, Deslauriers also had only 28 goals in 374 games. Now on the season, he has seven goals and six assists for 13 points, is a -1, with 92 penalty minutes, one game winning goal, 61 shots on goal, 31 blocked shots, 136 hits, 10 takewaways and 10 giveaways.