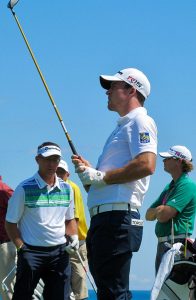 Nick Taylor of Winnipeg, Manitoba has won the 2023 Royal Bank of Canada Canadian Open from the Oakdale Golf & Country Club in Toronto. The 35-year-old shot a four-round score of -17 to beat Tommy Fleetwood of England in a playoff.
Taylor won the fourth playoff hole with a dramatic 72-foot eagle. According to Canadian Olympic silver medalist Mike Harris of Toronto, Ontario, he tweeted "That was an instant iconic moment!! Golden goal of golf." Harris, who has a golf background as the Director of Golf at the Banff Springs Hotel and the Head Professional at the Donalda Golf Club in Toronto, won a silver medal in men's curling at the 1998 Olympic Winter Games in Nagano. Meanwhile, Jim Nantz of CBS Sports called the shot "one of the biggest moments in Canadian sports history."
At the end of the day, how could you disagree? Taylor struggled in the opening round as he shot three-over-par, but was excellent thereafter, as he went -20 over the next 54 holes. The 72 foot eagle was simply legendary, and as a result becomes the first Canadian to win the Canadian Open since Pat Fletcher won in 1954.
Taylor also becomes the sixth Canadian to win the Canadian Open. Prior to Fletcher, the four Canadian golfers to accomplish the feat were George Cumming of Toronto (1905), Charlie Murray of Montreal, Quebec (1906 and 1911), Albert Murray of Montreal (1908 and 1913), and Karl Keffer of Tottenham, Ontario (1909 and 1914).