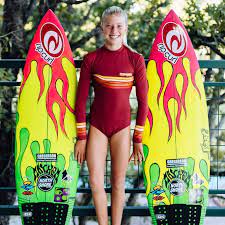 According to Canadian Olympic Committee freelance contributor Michael Charlebois on Monday, Erin Brooks won the silver medal in the women's shortboard competition at the 2023 World Surfing Games in El Sunzal, El Salvador this past Wednesday. Even though Brooks was born in Texas and raised in Hawaii, she represents Canada on the international stage because of her father's family connections.
Brooks had a score of 14.36 points in the final. She reached the podium by 2.16 points over Vahine Fierro of France, who finished in fourth place with a score of 12.30 points. Tati Weston Webb of Brazil won the gold medal with a score of 15 points, and Johanne Defay of France won the silver medal with a score of 13.54 points.
What was most impressive of Brooks's performance in El Salvador was her high degree of grit. She went through 11 repechage rounds to qualify for the final. The other remarkable statistic is the fact that Brooks is only 15 years of age.
Brooks made Canadian history with her silver medal. Never before has a Canadian surfer ever won a medal at the World Surfing Championships or World Surfing Games, which date all the way back to 1964. The silver medal for Brooks will giver her confidence as she prepares for the 2024 Olympic Games in Paris.