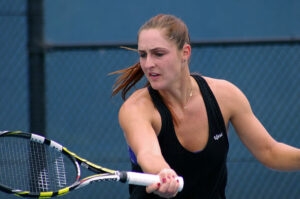 Gabriela Dabrowski of Ottawa, Ontario won her 10th career WTA doubles title on Sunday. At the 2021 National Bank Open in Montreal, Quebec, Dabrowski teamed up with Luisa Stefani of Brazil to beat Darija Jurak of Croatia and Andreja Klepac of Slovenia 6-3, 6-4 in the final.
Seeded fifth in Montreal, the biggest win of the week for Dabrowski and Stefani came in the semifinal. There they beat Elise Mertens of Belgium, and Aryna Sabalenka of Belarus, the number one seeds, 6-2, 6-2.
This was Dabrowski's first WTA title with Stefani. She previously won the 2014 Washington Open with Shuka Aoyama of Japan, the 2015 Monterrey Open with Alijca Rosolska of Poland, the 2016 Mallorca Open with Maria Jose Martinez Sanchez of Spain, the 2017 Miami Open, the 2017 Connecticut Open, the 2018 Sydney International, the 2018 Eastbourne International, and the 2019 Nuremburg Cup with Yifan Xu of China, and the 2018 Qatar Open with 2017 French Open singles champion Jelena Ostapenko of Latvia,
Dabrowski was the first Canadian to win a women's doubles final at the National Bank Open since the Canadian duo of Faye Urban of Windsor, Ontario, and Vicki Berner of Vancouver, British Columbia accomplished the feat in 1969. Berner and Urban beat fellow Canadians Jane O'Hara and Vivienne Strong of Toronto, Ontario, 6-1, 6-1.