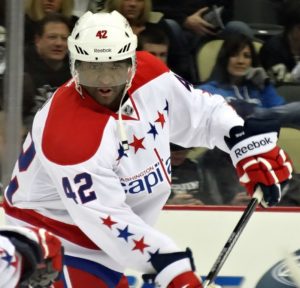 Former National Hockey League right winger Joel Ward of North York, Ontario retired at the age of 39 on Monday according to ESPN. Ward spent 11 seasons in the NHL from 2006 to 2018 with the Minnesota Wild, Nashville Predators, Washington Capitals and San Jose Sharks.
In 726 NHL regular season games, Ward had 133 goals and 171 assists for 304 points. He was a -2 with 261 penalty minutes, 52 power play points, 12 shorthanded points, 23 game winning goals, 1121 shots on goal and 916 faceoff wins.
Ward also had an impact in the Stanley Cup Playoffs. He had 22 goals and 30 assists for 52 points in 83 games. He was also a +10, with 42 penalty minutes, four game winning goals, 143 shots on goal, 99 faceoff wins, 53 blocked shots, 132 hits, 38 takeaways, and 26 giveaways. Ward's most memorable goal came on April 25, 2012. He scored the overtime winner from Mike Knuble of Toronto, Ontario at 2:57 of the extra period as the Washington Capitals beat the Boston Bruins 2-1 in game seven of the Eastern Conference quarterfinals.
Undrafted, Ward signed his first NHL contract with the Wild on September 27, 2006. In an interesting path to the National Hockey League, Ward actually played four seasons in Canadian university hockey before being given a chance to play hockey at the highest level. He played for the University of Prince Edward Island Panthers and graduated with a degree in sociology in 2006. The other teams Ward played for before being given a chance by the Wild were the Owen Sound Platers/Attack of the Ontario Hockey League, the Long Beach Ice Dogs of the West Coast Hockey League and the Houston Aeros of the American Hockey League.