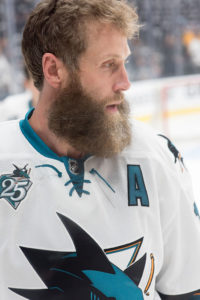 National Hockey League center and Canadian Olympic gold medalist Joe Thornton of London, Ontario retired at the age of 44 on Saturday according to CTVNewsLondon.ca. Thornton, who won a gold medal for Canada during the 2010 Olympic Winter Games in Vancouver, had 430 goals and 1109 assists for 1539 points in 1714 regular season games with the Boston Bruins, San Jose Sharks, Toronto Maple Leafs and Florida Panthers.
Thornton was the first overall pick in the 1997 National Hockey League Entry Draft. His finest season came in 2005-06, when he shared his time with the San Jose Sharks and Boston Bruins. Thornton led the NHL with 96 assists and 125 points. In the process, he won the Hart Trophy and Art Ross Trophy. Thornton is the only player ever to win those trophies by playing with two different teams.
In addition to his 1539 career points, Thornton was a +182, with 1272 penalty minutes, 548 power-play points, 12 shorthanded points, 68 game-winning goals, and 3068 shots on goal.
Thornton participated in six NHL All-Star Games. He represented the Bruins in 2002, 2003, and 2004, and the Sharks in 2007, 2008, and 2009. Thornton was also on the NHL's First All-Star Team in 2005-06. In addition to winning an Olympic gold medal, Thornton won the gold medal at the 1997 World Junior Hockey Championship in Geneva, Switzerland, and the 2004 and 2016 World Cup in Toronto, Ontario.