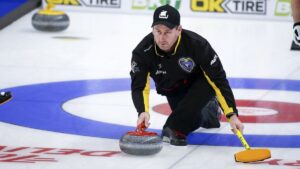 On the fourth day of the 2021 Tim Hortons Brier from the Markin MacPhail Centre in Calgary, Alberta, the news continues to focus on the impressive story of Team New Brunswick. After delivering upset wins over Team British Columbia and the first Wildcard team on Saturday, New Brunswick skip James Grattan beat Northern Ontario's Brad Jacobs, a Canadian Olympic gold medalist, 7-6 on Monday afternoon.
The turning point in Monday's game came in the sixth end. At that point, Grattan was trailing 3-1, but then scored four points to take a 5-3 lead. Jacobs, who won the Olympic gold medal for Canada at the 2014 Olympic Winter Games in Sochi, marched back to tie the game at six points each when he stole a point in the 10th end when Grattan's shot went too far. However, New Brunswick retained the hammer in the extra end and won by a single point.
Two teams remain undefeated. The second-ranked Wildcard team, Kevin Koe of Calgary, Alberta, leads Pool B with a perfect record of five wins and zero losses. On Monday, Koe only played once and hammered Nunavut 11-3. Koe got off to a great start as they scored six points in the first end. Manitoba meanwhile beat the first-ranked Wildcard team 8-5 in a battle of Winnipeg-based skips.