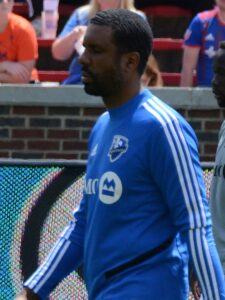 According to Dylan Butler of mlssoccer.com, Wilfried Nancy of Le Havre, France has been named the new head coach of CF Montreal. Nancy had been the assistant coach with the Montreal Impact since 2016, and takes over from French soccer star Thierry Henry, who resigned as the head coach of CF Montreal because of personal reasons on February 25. Remember, Montreal's soccer team changed their team name from the Montreal Impact to CF Montreal on January 14.
In addition to being the assistant coach with CF Montreal from 2016 to 2020, Nancy was part of the Montreal Impact academy. He was with their under-18 team from 2011 to 2013, their under-21 team in 2014, and their under-16 team in 2014 and 2015. He also coached at the provincial level in Quebec before joining the Impact organization.
Even though Nancy was born in France, he played university soccer in Canada. He played for the University of Quebec a Montreal Citadins during the 2005 Canadian Interuniversity Sport season. Nancy also played 11 seasons of professional soccer in France from 1995 to 2005 as a defender with Toulon, Beaucairois, Raon-l'Etape, Ivry, Noisy-le-Sec, Chatellerault, and Orleans.
In other Canadian MLS News, CF Montreal will begin the 2021 Major League Soccer season by playing their home games in Miami. Toronto FC meanwhile, has had to delay its training camp because of multiple coronavirus tests.