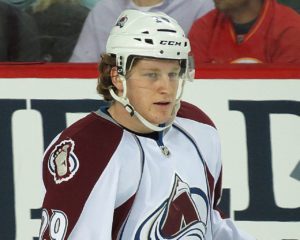 Colorado Avalanche centre Nathan MacKinnon of Springhill, Nova Scotia has won the 2020 Lady Byng Memorial Trophy for most gentlemanly player according to Stephen Whyno of the Associated Press on Friday. In 2019-20, MacKinnon only took 12 penalty minutes in 69 games, the lowest number of penalty minutes he has taken in a single NHL season.
MacKinnon becomes the third player in the history of the Quebec Nordiques/Colorado Avalanche organization to win the Lady Byng Memorial Trophy. The other two were also Canadian. Canadian Olympic gold medalist Joe Sakic of Burnaby, British Columbia won the award in 2001, and Ryan O'Reilly of Clinton, Ontario won the award in 2014. Sakic won the gold medal for Canada in men's hockey at the 2002 Olympic Winter Games in Salt Lake City.
In 69 games this season, MacKinnon had 35 goals and 58 assists for 93 points. He was a +13 with 31 power play points, four game winning goals, 318 shots on goal, 363 faceoff wins, 31 blocked shots, 51 hits, 38 takeaways and 53 giveaways. MacKinnon in fact led the NHL in shots on goal this season. Also in 2020, MacKinnon represented the Avalanche at the NHL All-Star Game for a fourth straight year.
The Lady Byng Trophy is the second major trophy MacKinnon has won in his NHL career. In 2014, MacKinnon won the Calder Trophy for NHL Rookie of the Year.