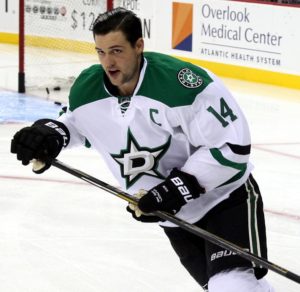 Canadian Olympic gold medalist Jamie Benn of Victoria, British Columbia led the Dallas Stars to a 3-2 win over the Vegas Golden Knights from Rogers Place in Edmonton, Alberta on Thursday. Benn was the only Stars player with a multi-point game as he notched one goal and one assist for two points. With the win, the Stars now lead the Golden Knights two games to one in the best out of seven Western Conference Final series.
Benn, who won a gold medal for Canada at the 2014 Olympic Winter Games in Sochi, scored Dallas's second goal of the game from Tyler Seguin of Brampton, Ontario, and Joel Hanley of Keswick, Ontario, at 7:35 of the third period to put Dallas up 2-1. Then in overtime, Benn picked up the Stars's secondary assist on the game winning goal by Alexander Radulov at the 31 second mark of the extra period.
Benn was one of two Canadians to score on Thursday. Jamie Oleksiak of Toronto, Ontario scored Dallas's opening goal with 17 seconds left in the first period. Jamie Oleksiak is the brother of Canadian Olympic gold medalist Penny Oleksiak of Toronto, Ontario, who placed first in the women's 100 metre freestyle swimming competition at the 2016 Olympic Games in Rio de Janeiro.