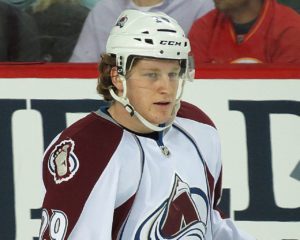 Colorado Avalanche center Nathan MacKinnon of Halifax, Nova Scotia notched his sixth career National Hockey League hat trick. He accomplished the feat in a 4-3 Avalanche win over the Nashville Predators on Friday from Bridgestone Arena in Nashville, Tennessee.
MacKinnon put the Avalanche up 2-0 at 3:20 of the first period from Devon Toews of Abbotsford, British Columbia and Mikko Rantanen. He then put the Avalanche up 3-1 at 13:14 of the first period from Samuel Girard of Roberval, Quebec. Then at 18:18 of the third period, MacKinnon broke a 3-3 tie with the game-winning goal from Rantanen, and give Colorado a 4-3 win.
In 71 games this season, MacKinnon has 42 goals and 69 assists for 111 points. He is a +29 with 30 penalty minutes, 34 power-play points, nine game-winning goals, 366 shots on goal, 519 faceoff wins, 40 blocked shots, 53 hits, 43 takeaways, and 47 giveaways.
Of MacKinnon's six career NHL hat tricks, four have come in the regular season and two in the playoffs. The other three career regular season hat tricks came in a 5-4 Avalanche win over the Tampa Bay Lightning on February 22, 2015, in a 6-3 Avalanche win over the San Jose Sharks on December 28, 2015, and in a 9-3 Avalanche win over the Los Angeles Kings on April 13, 2022. The two playoff hat tricks for MacKinnon came in a 6-3 Avalanche win over the St. Louis Blues on May 19, 2021, and in a 5-4 Avalanche loss to the Blues on May 25, 2022.
With the win, the Avalanche won the Central Division. They had a record of 51 wins, 24 regulation losses, and seven losses in extra time for 109 points.