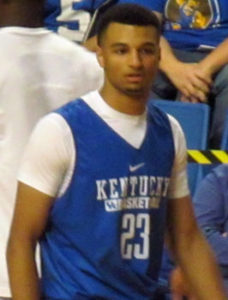 Jamal Murray of Kitchener, Ontario had an impressive fourth quarter on Tuesday as the Denver Nuggets beat the San Antonio Spurs 114-105. Murray scored 21 of his 24 points in the final 12 minutes as the Nuggets tied their Western Conference Quarterfinal series with the Spurs at one game apiece.
The Nuggets trailed the Spurs 78-59 in the third quarter before the impressive comeback where they outscored San Antonio 55-27 over the final 16 minutes and 28 seconds. Murray was the second Canadian in two nights to be part of a marvelous comeback. On Monday evening, Shai Gilgeous-Alexander of Toronto, Ontario was part of the Los Angeles Clippers team that came back from a 31 point deficit to beat the Golden State Warriors 135-131.
The Clippers were once down 94-63 with less than five minutes into the third quarter before the Warriors destructed. It was the largest comeback in the history of the NBA playoffs. The Clippers and Warriors are now tied at one game apiece.
Meanwhile, the Toronto Raptors evened their best out of seven Eastern Conference quarterfinal series with the Orlando Magic at one at the Scotiabank Arena on Tuesday. Kawhi Leonard scored 37 points as the Raptors hammered the Magic 111-82. It was the most dominant playoff win in Raptors franchise history. Game three goes Friday.