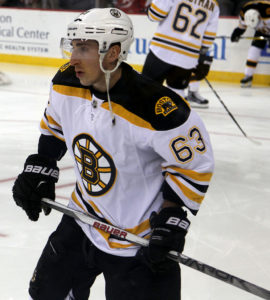 Brad Marchand of Halifax, Nova Scotia led the Boston Bruins offensively in game four of their first round series of the 2019 Stanley Cup Playoffs against the Toronto Maple Leafs. On Wednesday, Marchand had one goal and two assists for three points as the Bruins beat the Maple Leafs 6-4 at the Scotiabank Arena in Toronto, Ontario.
Marchand scored his goal at 6:38 of the first period from Danton Heinen of Langley, British Columbia and Charlie McAvoy. The goal put the Bruins up 2-0 at the time. Marchand and Canadian Olympic gold medalist Patrice Bergeron of L'Ancienne-Lorette, Quebec then picked up assists on a second period goal by David Pastrnak at 3:16 of the second period which put the Bruins up 3-2. Marchand then had another assist on a Pastrnak power play goal at 4:51 of the second period which put the Bruins up 4-2. Bergeron won the gold medal for Canada in men's hockey at the 2010 Olympic Winter Games in Vancouver and the 2014 Olympic Winter Games in Sochi. 
With the win, the Bruins tied their best out of seven first round playoff series with the Maple Leafs at two games apiece. Meanwhile, in Dallas, the Stars also tied their best out of seven series in the Western Conference first round with the Nashville Predators at two. Dallas came away with a rather surprising 5-1 win as they move to Nashville for game five. In Denver, the Colorado Avalanche beat the Calgary Flames 3-2 in overtime to take a 3-1 series lead.