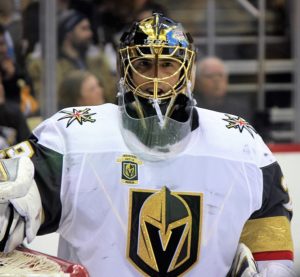 Canadian Olympic gold medalist Marc-Andre Fleury of Sorel, Quebec recorded his 15th career playoff shutout in the National Hockey League on Tuesday as the Vegas Golden Knights trounced the San Jose Sharks 5-0 at the T-Mobile Arena in Las Vegas, Nevada. In his 13 year National Hockey League career, Fleury now has 10 career playoff shutouts with the Pittsburgh Penguins and five career playoff shutouts with the Golden Knights.
Fleury is now fourth all-time in playoff shutouts. Martin Brodeur of Montreal, Quebec is the all-time leader with 24 shutouts. Patrick Roy of Quebec City, Quebec is second all-time with 23 shutouts and Curtis Joseph of Richmond Hill, Ontario is third all-time with 16 shutouts. Fleury won his gold medal for Canada in men's hockey at the 2010 Olympic Winter Games in Vancouver. 
In the Golden Knights win, Fleury made 18 saves in the first period, eight saves in the second period and two saves in the third period for 28 saves overall. Three Canadians on the Golden Knights had a multi-point game as Shea Theodore of Langley, British Columbia had one goal and one assist for two points and Reilly Smith of Toronto, Ontario and Mark Stone of Winnipeg, Manitoba had two assists each. With the win, Vegas has a three games to one lead in the best out of seven series.
In Columbus, the Tampa Bay Lightning became the first Presidents' Trophy winner ever to be swept in the first round when they lost 7-3 to the Columbus Blue Jackets. Pierre-Luc Dubois of Ste-Agathes-des-Monts, Quebec led the Blue Jackets in scoring with one goal and two assists for three points. Other Canadian Blue Jackets with a multi-point game were Matt Duchene of Halliburton, Ontario (one goal and one assist for two points) and Scott Harrington of Kingston, Ontario (two assists).
Another team that got swept on Tuesday was the Pittsburgh Penguins. Josh Bailey of Oshawa, Ontario had one goal and one assist for two points as the New York Islanders beat the Penguins 3-1 in game four of the series.
Meanwhile, Mark Scheifele of Kitchener, Ontario led the Winnipeg Jets in scoring with two points (one goal and one assist) as the Jets beat the St. Louis Blues 2-1 in overtime. With the win, the best out of seven series is tied at two games apiece.