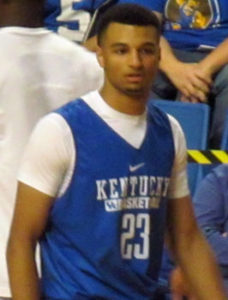 Jamal Murray of Kitchener, Ontario led the Denver Nuggets in scoring during game seven of their Western Conference quarterfinal series with the San Antonio Spurs on Saturday at the Pepsi Center in Denver, Colorado. Murray scored 23 points as the Nuggets beat the Spurs 90-86 in a narrow contest. With the win, the Nuggets won the best out of seven series four games to three and will now face the Portland Trail Blazers in the Western Conference semifinal, which starts Monday.
Murray was one of three Nuggets who reached double digits in scoring on Saturday. Nikola Jokic had 21 points and Gary Harris had 11 points. Murray also added five rebounds and four assists in the Nuggets' elimination game win.
This is the first season in Murray's career that he is playing in the NBA Playoffs, and during his first career series, he reached double digits in scoring in six of the seven games played. Murray reached 24 points twice. The first time came in game two of the series in a 114-105 win over the Spurs which tied the series at one game apiece. The second time came in game four of the series in a 117-103 Nuggets win which tied the series at two games apiece.