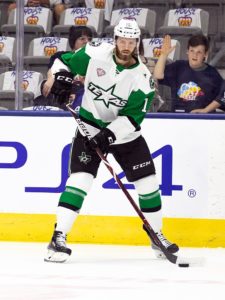 Jason Dickinson of Georgetown, Ontario had a multi-point game for the Dallas Stats in game two of their best out of seven second round playoff series with the St. Louis Blues at the Enterprise Center in St. Louis, Missouri on Saturday. Dickinson had two assists as the Stars defeated the Blues 4-2 to tie the series at one game apiece. Game three of their series goes Monday in Dallas.
Dickinson recorded his first assist on the opening goal of the hockey game by Roope Hintz at 7:11 of the first period. He then got another assist on the Stars' game winning goal by Mattias Janmark at 14:51 of the first period, which at the time put the Stars up 3-1.
Dickinson was one of three Stars players with a multipoint game in the two goal win. Hintz had two goals and one assist for three points and like Dickinson, Mats Zuccarello also had two assists.
This is the second time in Dickinson's National Hockey League career that he recorded two points in a playoff game. The first time also came in the 2019 Stanley Cup playoffs. Dickinson had two goals in the Stars' 5-3 win over the Nashville Predators in game five of their series on April 20. At the time, the Stars went up three games to two in their best out of seven first round playoff series.
In other action, the Columbus Blue Jackets beat the Boston Bruins 3-2 in double overtime. That series is also tied at one game apiece. Canadian Olympic gold medalist Matt Duchene of Haliburton, Ontario scored the game winning goal for Columbus at 3:42 of double overtime on the power play. Artemi Panarin and Cam Atkinson notched the assists. Duchene won a gold medal for Canada at the 2014 Olympic Winter Games in Sochi.