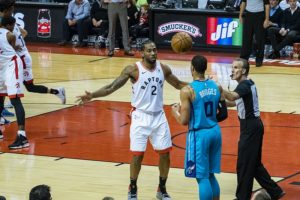 It may only be short term, but Kawhi Leonard is becoming one of the greatest Toronto Raptors in franchise history. On Saturday at the Scotiabank Arena in Toronto, Ontario, Leonard scored 45 points as the Raptors beat the Philadelphia 76ers 108-95 in game one of the 2019 Eastern Conference semifinal. 
Leonard's 45 points was the second most by a Raptors player in a playoff game in franchise history. Vince Carter has the most as he had 50 points in a 102-78 Raptors win over the 76ers in game three of the 2001 Eastern Conference semifinal on May 11, 2001. However one could clearly argue that Leonard is a better overall player because he is a significantly better defender than Carter ever was during his time with the Raptors.
In the Raptors 13-point round two, game one win over Philadelphia, Leonard also had 11 rebounds. Pascal Siakam also reached double digits in scoring as he had 29 points. Kyle Lowry led the Raptors with eight assists.
Leonard also set a career playoff high on Saturday. His previous career high was 43 points in a 110-108 San Antonio Spurs loss to the Memphis Grizzlies on April 22, 2017. That night Leonard also had eight rebounds, six assists and three blocked shots.
The Raptors and 76ers are set to play game two of their Eastern Conference semifinal on Monday. Then the series shifts to Philadelphia for Thursday.