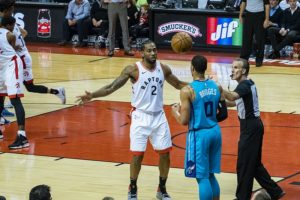 The Toronto Raptors have evened their Eastern Conference semifinal series with the Philadelphia 76ers at two games apiece. On Sunday afternoon from the Wells Fargo Center in Philadelphia, Pennsylvania, Kawhi Leonard scored 39 points as the Raptors beat the 76ers 101-96 to even their best out of seven series at two games apiece.
Leonard simply had a tremendous game. Even though the veteran small forward was at times triple-teamed throughout the contest, he had a double double as he also had 14 rebounds.
However even though Leonard was excellent on both ends of the hard court, other Raptors showed up in the game as well. Marc Gasol had 16 points, Kyle Lowry had 14 points, Serge Ibaka had 12 points and Danny Green had 11 points.
The Raptors exemplified the quality of redemption in game four as they put together a solid 48 minutes after losing 94-89 in game two of the series at the Scotiabank Centre in Toronto, Ontario on Monday and being dominated 116-95 in game three of the series in Philadelphia this past Thursday, Now the Raptors will have home court advantage with game five of the series in Toronto on Tuesday. The Raptors were 32-9 at home this season. Only the Denver Nuggets at 34-7 and the Milwaukee Bucks at 33-8 had a better home record than Toronto. However, the Raptors have already lost two home games in the 2019 NBA Playoffs to date as they lost 104-101 to the Orlando Magic in their first game of the Eastern Conference quarterfinal series and game two of their series against the 76ers in Toronto.