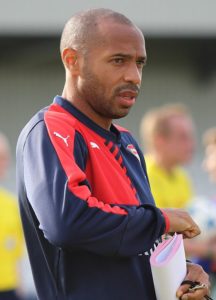 One of the best soccer players the country of France has ever produced is now coming to Canada to be the head coach of the Montreal Impact of Major League Soccer. On Thursday, the Impact named Thierry Henry to be their seventh head coach while as a member of the MLS since 2011.
Henry previously was an assistant coach for the Belgian national team from 2016-2018 and this past year was the manager of AS Monaco in France. Henry won the 1998 World Cup with France. During that historic World Cup which was hosted by France, Henry scored in France's 3-0 win over South Africa and twice in France's 4-0 win over Saudi Arabia. In 123 games for the French National Team from 1997-2010, Henry scored 51 goals.
From a club perspective, Henry played for AS Monaco in France from 1994-1999 (20 goals in 105 games), Juventus in Italy in 1999 (three goals in 16 games), Arsenal in the English Premier League from 1999-2007 and again in 2012 (175 goals in 259 games), FC Barcelona of La Liga in Spain from 2007-2010 (35 goals in 80 games) and the New York Red Bulls of the MLS from 2010-2014 (51 goals in 122 games).
Henry will try to get the Impact back in the MLS Cup Playoffs. This past season they finished ninth in the Eastern Conference and missed the playoffs as they were four points back of the seventh place New England Revolution.