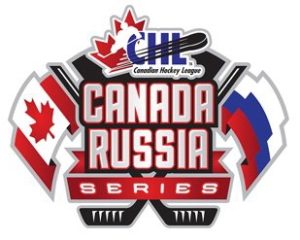 For the first time in recent memory, possible ever, hockey fans in Prince Albert, Saskatchewan saw a double shootout on Thursday to determine the winner of the 2019 Canadian Hockey League Canada/Russia series.After Russia won the sixth and final game of the series 4-3 in a shootout, the series was then tied at three games a piece. That is when a shootout was required to determine the winner of the series.
The hero for Canada in the series was Nolan Foote of Kelowna, British Columbia. The Kelowna Rockets left winger scored in the seventh round of the second shootout to give the Canadian Hockey League the series title.
If the last name of Foote in the hockey world sounds familiar, it should. Nolan Foote is the son of Canadian Olympic gold medalist Adam Foote of Toronto, Ontario. Foote won a gold medal for Canada at the 2002 Olympic Winter Games in Salt Lake City,and the Stanley Cup with the Colorado Avalanche in 1996 and 2001. Nolan Foote was the first overall draft pick, 27th overall by the Tampa Bay Lightning in the 2019 NHL Entry Draft.
It should be noted that Nolan Foote is Canadian even though he was born in Englewood, Colorado. Nolan was born in 2000 while his dad was playing for the Colorado Avalanche.