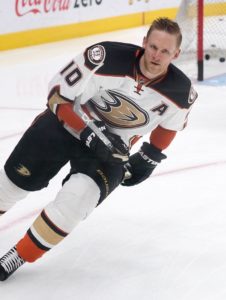 Canadian Olympic gold medalist Corey Perry of Peterborough, Ontario played in his 1000th National Hockey League regular season game on Wednesday. Perry had one shot on goal, one blocked shot and one faceoff win for the Dallas Stars in their 3-1 win over the Calgary Flames at the Scotiabank Saddledome in Calgary, Alberta.
Perry, who won a gold medal for Canada at the 2010 Olympic Winter Games in Vancouver and the 2014 Olympic Winter Games in Sochi, has played 988 NHL regular season games with the Anaheim Ducks and now 12 games this season for the Dallas Stars. He has 374 goals and 406 assists for 780 points. Also in the 1000 NHL regular season games, Perry is a +75, 1116 penalty minutes, 244 power play points, 10 shorthanded points, 64 game winning goals and 2884 shots on goal.
Perry's finest NHL season came with the Ducks in 2010-11. That year he led the NHL with 50 regular season goals, 32 even strength goals and 11 game winning goals. He won the Hart Trophy and Maurice "Rocket" Richard Trophy.
Twice Perry has been on the NHL's first all-star team twice and he has played in four NHL All-Star Games. In 2007, Perry won a Stanley Cup with the Ducks.
In Dallas's win over Calgary, it was a memorable game for Stars centre Justin Dowling of Calgary, Alberta, who scored his very first National Hockey League regular season goal. It was an unassisted marker at 6:38 of the third period which put Dallas up 2-0 at the time. Dowling's goal was also the game winning goal.