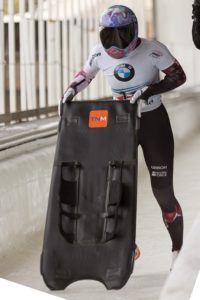 Mirela Rahneva of Ottawa, Ontario won a silver medal on Sunday at a World Cup women's skeleton competition in Winterberg, Germany. For Rahneva it was her ninth career World Cup medal in women's skeleton and first this season. She has now won three gold medals, three silver medals and three bronze medals on the women's World Cup skeleton circuit.
On Sunday, Rahneva posted a time of 1:56.24. Tina Hermann of Germany won the gold medal with a time of 1:56.21. Janine Flock of Austria won the bronze medal with a time of 1:56.37. Rahneva reached the podium by 0.22 seconds over Jacqueline Loelling of Germany, who had a fourth place time of 1:56.46.
After three World Cup women's skeleton races this season, Rahneva sits in fourth place with 594 points in the World Cup standings. Loelling leads with 627 points. Flock is in second with 610 points and Hermann is in third with 601 points.
There are eight World Cup women's skeleton races this season. Athletes are still to compete this year in La Plagne, France on January 10, Innsbruck, Austria on January 17, Konigssee, Germany on January 24, St, Moritz, Switzerland on January 31, and Sigulda, Latvia on February 16.
The 2020 IBSF World Championships (for skeleton and bobsled) will be taking place in Altenberg, Germany this year. Women's skeleton will be on February 28 and 29. The silver medal for Rahneva will give her confidence as she prepares for the 2022 Olympic Winter Games in Beijing.