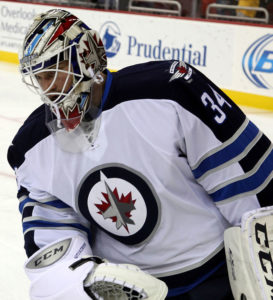 Michael Hutchinson of Barrie, Ontario recorded his fifth career shutout on Saturday as the Toronto Maple Leafs defeated the New York Islanders 3-0 at the Scotiabank Arena in Toronto, Ontario. The fact that Hutchinson came in closed the door on a very good Islanders squad is significant because he has been used as a backup for the majority of the 2019-20 NHL regular season behind Frederik Andersen.
Hutchinson had seven saves in the first period, 16 saves in the second period and 10 saves in the third period for 33 saves overall. Jordan Eberle of Regina, Saskatchewan led the Islanders with six shots on goal.
In the three goal Toronto win, Auston Matthews led the Maple Leafs in scoring with two points (one goal and one assist). The other two Maple Leafs goal scorers were Zach Hyman of Toronto, Ontario and Pierre Engvall.
In 2019-20, Hutchinson has a record of three wins, five regulation losses and one loss in extra time. He has one shutout, a goals against average of 3.59 and a save percentage of .896. Hutchinson's four other shutouts came on November 2, 2014 in a 1-0 Winnipeg Jets win over the Chicago Blackhawks, on January 21, 2015 in a 4-0 Winnipeg win over the Columbus Blue Jackets, on October 28, 2016 in a 1-0 Winnipeg win over the Colorado Avalanche and on January 5, 2019 in a 5-0 Toronto win over the Vancouver Canucks.
The Maple Leafs are red hot at the moment. They have won three games in a row and have gone 9-0-1 in their last 10 games. Toronto has 53 points and are in second place in the Atlantic Division.