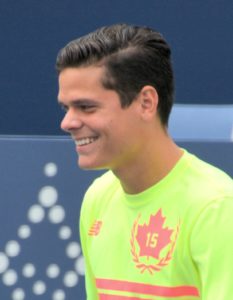 Milos Raonic of Thornhill, Ontario and Leylah Annie Fernandez of Montreal, Quebec are off to the third round of the 2023 National Bank Open after delivering upsets on Wednesday. Raonic defeated Taro Daniel of Japan 6-4, 6-3 in Toronto, while Fernandez upset the 11th seed, Beatriz Haddad Maia of Brazil, 7-5, 5-7, 6-3 in Montreal. When it comes to the tennis rankings, Raonic and Fernandez both delivered upsets. Raonic is ranked 545th in the world, while Daniel is ranked 115th. Fernandez meanwhile is 81st, while Haddad Maia is 12th.
It should be noted that even though Raonic and Fernandez were the lower seeds, they are both grand slam finalists from the past. Raonic made the 2016 Wimbledon men's final and Fernandez made the 2021 United States Open women's final. Haddad Maia was a formidable opponent. She reached the semifinal of the 2023 French Open and the final of the 2022 National Bank Open in Toronto.
In Raonic's win over Daniel, Raonic had 15 aces, while Daniel had three. In Fernandez's win over Haddad Maia, Fernandez had three aces compared to none for Haddad Maia.
Raonic will next play Mackenzie McDonald of the United States. Raonic and McDonald have faced each other twice and beaten each other once. Raonic's win came in the fourth round of Wimbledon in 2018 by a score of 6-3, 6-4, 6-7, 6-2. Fernandez will next play Danielle Collins of the United States, the 2022 Australian Open finalist. This will be their first ever meeting.