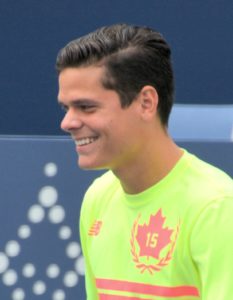 Milos Raonic of Thornhill, Ontario is in the fourth round of the Australian Open for the seventh time in his career. On Friday, Raonic, the 32nd seed, upset the sixth seed, Stefanos Tsitsipas of Greece, 7-5, 6-4, 7-6.
The match was dictated by Raonic in its entirety. A major reason for the Raonic win came down to aces. Raonic had 19, while Tsitsipas only had nine. Raonic also won 71% of points at the net (compared to 47% for Tsitsipas), and had 55 winners compared to 23 for Tsitsipas.
The fact that Raonic won in only two hours and 30 minutes is also significant. That is because his next opponent, Marin Cilic of Croatia, was on the court for four hours and 10 minutes in beating ninth seed Roberto Bautista Agut of Spain 6-7, 6-4, 6-0, 5-7, 6-3.
Cilic has won two of three matches against Raonic in their career. Raonic's lone win came in the third round of the 2013 BNP Paribas Open in Indian Wells, where Raonic won 3-6, 6-4, 6-3. Cilic beat Raonic in the second round of the 2011 Valencia Open (6-4, 6-4) and the final of the 2017 Istanbul Open in Turkey (7-6, 6-3). It should be noted that Raonic and Cilic were to meet in the third round of the 2018 Monte Carlo Masters, but Raonic needed to pull out.