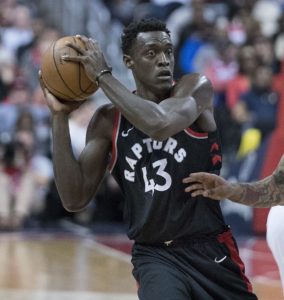 Toronto Raptors power forward Pascal Siakam of Douala, Cameroon has been named a starter in the Eastern Conference for the 2020 National Basketball Association All-Star Game at the United Center in Chicago, Illinois on February 16, 2020. Siakam was the only Raptors player selected to be a starter.
Players are chosen through a weighted score. Factors include fan vote (50%), active players selections (25%) and media representatives (25%). The fact that all three factors are taken into account is excellent and takes away the factor of binge voting in all-star games as we saw with Gary Carter when he was with the New York Mets in the 1980's or John Scott when he was with the Arizona Coyotes in 2016.
Siakam is averaging 23.5 points per game with the Raptors in 2019-20. He is also averaging 7.7 rebounds per game and 3.5 assists per game. Siakam also has a field goal percentage of .454, three point percentage of .367 and a free throw percentage of .812.
Siakam will be joined in the Eastern Conference with Milwaukee Bucks forward Giannis Antetokounmpo, Atlanta Hawks guard Trae Young, Boston Celtics guard Kemba Walker and Philadelphia 76ers center Joel Embiid. The Western Conference starters are Los Angeles Lakers guard LeBron James, Lakers forward Anthony Davis, Los Angeles Clippers forward Kawhi Leonard, Houston Rockets guard James Harden and Dallas Mavericks guard Luka Doncic.