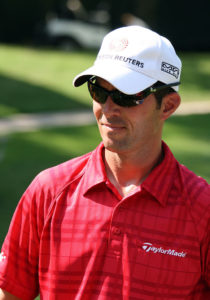 Mike Weir of Sarnia, Ontario won eight times on the PGA Tour from 1999 to 2007. Now for the first time, he is a winner on the Champions Tour. On Sunday, Weir shot a two-round score of -10 to beat Americans John Daly, David Toms, and Tim Petrovic by two strokes, to win the 2021 Insperity Invitational from Houston, Texas.
Weir had a first-round score of six-under-par 66 and a second-round score of four-under-par 68. In the first round, Weir birdied the first, sixth, seventh, 12th, 13th, 15th, and 17th holes, and bogeyed the 14th hole. In the second round, Weir eagled the 13th hole, birdied the first, third, ninth, 11th and 15th holes, and bogeyed the sixth, 12th, and 14th holes. On the 13th hole, Weir had a fantastic approach shot which gave him an easy eagle putt attempt, which he drained into the cup.
Like Weir, who won the 2003 Masters, Daly and Toms are both major champions from the past. Daly won the 1991 PGA Championship and 1995 British Open, while Toms won the 2001 PGA Championship.
Weir has had great success in Texas. In 2001, he shot -14 and won the Tour Championship by beating Ernie Els of South Africa, Sergio Garcia of Spain, and Toms by a stroke.