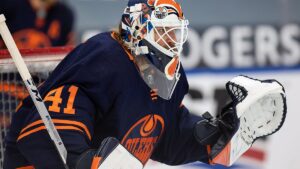 Canadian Olympic gold medalist Mike Smith of Kingston, Ontario recorded his 41st career shutout on Thursday. The veteran netminder made 32 saves as the Edmonton Oilers defeated the Vancouver Canucks 3-0 at Rogers Arena in Vancouver, British Columbia.
Smith had 13 saves in the first period, 15 saves in the second period, and only four saves in the third period. Many of Smith's 32 saves were of the spectacular variety.
So far in 2020-21, Smith has been simply remarkable. He has a record of six wins and zero losses, a goals against average of 1.73, and a save percentage of .944. Smith's save percentage amazingly leads the entire National Hockey League. One could argue that Smith, who is currently 38 years old, is having the best season of his career.
Offensively for the Oilers, Edmonton got goals from captain Connor McDavid of Richmond Hill, Ontario, Alex Chiasson of Montreal, Quebec, and Jesse Puljujarvi. McDavid also led the Oilers in scoring with two points, as he had one goal and one assist. McDavid leads all players in the NHL in scoring this season with 40 points. Remarkably, Oilers center Leon Draisaitl is second with 34 points.
The Oilers meanwhile are red hot. They have won their last six games on the road, their longest road winning streak since 1987. Edmonton is also in second place in the North Division, four points back of the first place Toronto Maple Leafs.