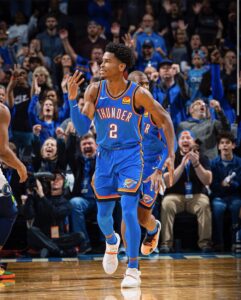 It was a magical game on Wednesday for the two Canadians on the Oklahoma City Thunder. Shai Gilgeous-Alexander of Toronto, Ontario had a career-high 42 points, and Luguentz Dort of Montreal, Quebec had the game-winning shot at the buzzer, as the Thunder defeated the San Antonio Spurs 102-99.
Gilgeous-Alexander finished the night with eight rebounds, four assists and one blocked shot. He made 13 of his 20 field goal attempts, six of his 11 three-point attempts, and 10 of his 11 free throws. Gilgeous-Alexander was the only Thunder player to get to the free throw line the entire game. Gilgeous-Alexander's previous career-high was 33 points in a 127-125 Thunder win over the Chicago Bulls on January 15, 2021.
On the season, Gilgeous-Alexander leads the Thunder in scoring (23.6 points per game). He also has 6.3 assists per game, 5.3 rebounds per game, a field goal percentage of .515, a three-point percentage of .425, and a free throw percentage of .790.
Dort's game-winning shot was of 23 feet and broke a 99-99 tie. He finished the game with 16 points.
The Thunder have now won their last two games as they also beat the Atlanta Hawks 118-109 on Friday. They are at 14 wins and 19 losses on the season.