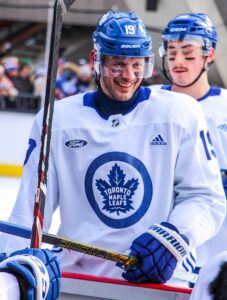 According to Hockey Reference on Thursday, Toronto Maple Leafs center Jason Spezza of Toronto, Ontario, recorded his eighth career National Hockey League hat trick as the Maple Leafs defeated the Vancouver Canucks 7-3. With the win, the Maple Leafs moved into first place in the North Division.
Spezza scored his first goal at 10:15 of the first period from Morgan Rielly of Vancouver, British Columbia, and William Nylander of Calgary, Alberta at 10:15 of the first period on the power play. At the time, Spezza's goal put the Maple Leafs up 2-1.
Spezza then put the Maple Leafs up 4-2 with a game winning goal. His second goal came at 8:44 of the second period from Nic Petan of Delta, British Columbia, and Travis Boyd.
Then, Spezza notched the hat trick at 4:34 of the third period, which put the Maple Leafs up 6-2. He scored from Jake Muzzin of Woodstock, Ontario and Nylander.
Spezza was one of seven Maple Leafs players to register a multi-point game. Mitch Marner of Markham, Ontario had one goal and two assists for three points, Nylander had three assists, Auston Matthews had two goals, and Muzzin, Boyd, and Reilly had two assists each. The other Maple Leaf goal scorer was John Tavares of Mississauga, Ontario. Tavares won a gold medal for Canada in men's ice hockey at the 2014 Olympic Winter Games in Sochi.
On the season, Spezza now has four goals and four assists for eight points in 10 games. He is a +1 with six penalty minutes, three power play points, one game winning goal, 14 shots own goal, 54 faceoff wins, three blocked shots, three hits, two takeaways, and three giveaways.
This was Spezza's first hat trick with the Maple Leafs. He previously has had five hat tricks with the Ottawa Senators and two with the Dallas Stars.