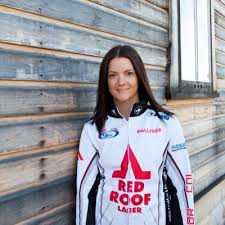 Kerri Einarson of Gimli, Manitoba has won her second consecutive Scotties Tournament of Hearts. On Sunday from Calgary, Alberta, Einarson's Team Canada defeated Team Ontario's Rachel Homan 9-7 in the championship final. It was the second win for Einarson on Sunday, as in the afternoon, Team Canada clobbered Team Alberta by a commanding score of 9-3.
Clearly, the momentum Einarson's team got in the afternoon, continued in the evening. After shooting 10% better than Alberta in the semifinal (78% compared to 68%), Team Canada was seven percent better in the final (86% compared to 79%). Einarson herself was at 88%, while her second Shannon Birchard of Winnipeg was also at 88%, and her lead Briane Meilleur of Petersfield, Manitoba, shot a marvelous 95%.
The key shot in the championship game came in the fifth end. Einarson threw her rock past three stones for a takeout. She would go on to score three points and take a 5-3 lead. Ontario's Rachel Homan came back to tie the game at seven. Then in the 10th end, Homan was too heavy with her final draw attempt, and allowed Einarson to steal two more points for the win.
The same skips played against each other in two consecutive Scotties finals for the first time. In 2020, Einarson representing Team Manitoba, defeated Team Ontario, representing Homan, 8-7 in 11 ends in Moose Jaw, Saskatchewan.