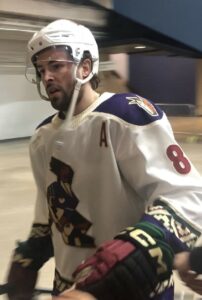 Michael Carcone of Ajax, Ontario notched his first career National Hockey League hat trick on Monday. He accomplished the feat in a 8-1 Arizona Coyotes win over the Chicago Blackhawks at the Mullett Arena in Tempe, Arizona.
Carcone tied the game at one goal apiece at 2:23 of the first period from defenseman Sean Durzi of Mississauga, Ontario and Logan Cooley. He then out the Coyotes up 3-1 on the power play from Lawson Crowse of Mount Brydges, Ontario and Nick Bjugstad at 15:55 of the first period. Then exactly at the five minute mark of the second period, Carcone scored from Travis Boyd to put the Coyotes up 4-1.
It was a four point game for Carcone, as he had three goals and one assist for four points. His lone assist came on a Durzi goal. In all, there were five Canadian Coyotes with a multi-point game. Jack McBain of Toronto had four points (two goals and two assists), Alexander Kerfoot of Vancouver, British Columbia had three points (three assists), Durzi had two points (one goal and one assist), and Liam O'Brien of Halifax, Nova Scotia had two points (one goal and one assist). Meanwhile, defenseman Josh Brown of London, Ontario also scored for Arizona.
In 2023-24, Carcone has four goals and two assists for six points in seven games. He was a +4 with four penalty minutes, one power-play goal, one game-winning goal, 12 shots on goal, three blocked shots, five hits, one takeaway, and one giveaway. The game-winning goal came in a 6-2 Coyotes win over the St. Louis Blues on October 19. Carcone scored from Durzi at 7:44 of the second period and put Arizona up 3-1 at the time.
The Coyotes are now at four wins and four losses for eight points. They are tied with the Nashville Predators for fourth place in the Central Division.