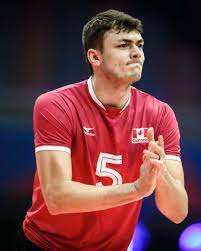 Team Canada has qualified for the 2024 Olympic Games in Paris in men's volleyball. On Sunday in Xi'An, China, Canada defeated Mexico 25-20, 25-21, 25-15. With the win, Canada finished the eight-team qualification tournament with a record of five wins and two losses. That was good enough for second place in the group and a spot at the 2024 Olympic Games in Paris.
Canada was led offensively on Sunday by outside hitter Eric Loeppky of Steinbach, Manitoba. He had 16 points (14 attack points, one block point and one ace). Two more Canadians reached double digits in total points. Outside hitter Stephen Maar  of Aurora, Ontario had 12 points (nine attack points, two aces and one block point), and middle blocker Jordan Schnitzer of Surrey, British Columbia had 11 points (six attack points, four block points and one ace). Loeppky led Canada with 14 attack points. Schnitzer and Danny Demyanenko of Toronto, Ontario each led Canada with four block points. Maar and opposite Arthur Szwarc of Toronto led two aces.
In order for Canada to qualify for the Olympic Games they needed a win and a Bulgaria win over Belgium. That is because Belgium beat Canada in four sets the day before. Canada got the help they needed as Bulgaria beat Belgium 25-21, 23-25, 21-25, 25-22, 15-13. In addition to the host country of France, five other countries have qualified for men's volleyball at the 2024 Olympic Games in Paris. They are the United States, Japan, Poland, Germany and Brazil.