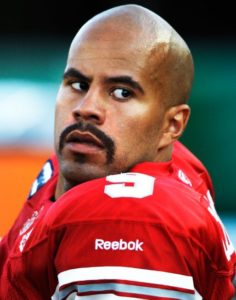 It was announced on Wednesday that former Calgary Stampeders running back Jon Cornish of New Westminster, British Columbia would be inducted into the Canadian Football Hall of Fame in Hamilton, Ontario on August 9. Cornish is the only Canadian-born player inducted in 2019 and is joined by former Toronto Argonauts wide receiver Terry Greer, former British Columbia Lions wide receiver Mervyn Fernandez, former Lions and Winnipeg Blue Bombers wide receiver and defensive back Ernie Pitts and former wide receiver David Williams.
There are two other Canadians being inducted into the Canadian Hall of Fame as builders. They are former Saskatchewan Roughriders president and chief executive officer Jim Hopson of Regina, Saskatchewan and former University of British Columbia Thunderbirds head coach Frank Smith of Vancouver, British Columbia.
Cornish, who played for the Stampeders from 2007-2015, was the Canadian Football League's most outstanding player in 2013 as he led the CFL with 1813 rushing yards and tied for the CFL lead with 12 touchdowns. For three consecutive seasons Cornish led the CFL in rushing yards as he had 1457 yards in 2012 and 1082 yards in 2014. Twice Cornish won the Grey Cup in 2008 and 2014, and three times Cornish was the CFL's top Canadian in 2012, 2013 and 2014.
Cornish is one of three Canadians all-time to be named the CFL's most outstanding player. The others were Russ Jackson of Hamilton, Ontario who won the award with the Ottawa Rough Riders in 1963, 1966 and 1969, and Tony Gabriel of Burlington, Ontario, who won the award with the Rough Riders in 1978.