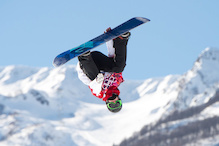 Maxence Parrot of Cowansville, Quebec has defended his Winter X Games title in men's big air snowboarding. On Friday in Aspen, Colorado, Parrot posted an overall score of 75 points to win his second straight Winter X Games gold medal in an event that will be making its debut at the 2018 Olympic Winter Games in Pyeongchang.
Parrot beat out Markus Kleveland of Norway by two points. Kleveland had the best single snowboarding run of the evening as he recorded 47 points with a quadruple 1800, but only had 26 points with his second best score.
Parrot delivered with scores of 44 and 31 to claim the top spot of the podium. He was able to deliver a switch frontside triple cork 1440 and a frontside triple cork according to the Canadian Press.
Parrot earned a podium spot by 14 points over Canadian Olympic bronze medalist Mark McMorris of Regina, Saskatchewan and Chris Corning of the United States. Yuki Kadono of Japan won the bronze medal in Aspen as he had a top two run score of 68 points.
Parrot has now won seven career medals at the Winter X Games. He now has momentum heading into the 2018 Olympic Winter Games in Pyeongchang.
Photo credit–Jason Ransom–Canadian Olympic Committee, with permission