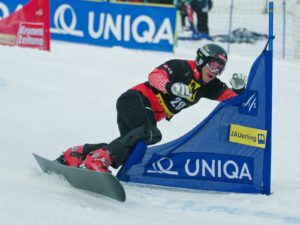 Canadian Olympic gold medalist Jasey-Jay Anderson of Montreal, Quebec is heading into the 2018 Olympic Winter Games in Pyeongchang with a significant amount of momentum. Anderson, at the remarkable age of 42, won a parallel giant slalom snowboarding race in Bansko, Bulgaria on Friday.
Anderson beat Nevin Galmarini of Switzerland in the big air final by 42 hundredths of a second. Edwin Coratti of Italy won the bronze medal. Anderson beat Corratti by 0.07 seconds in the semi-final.
In addition to beating Galmarini and Coratti down the hill, Anderson knocked off Andreas Prommegger of Austria by 41 hundredths of a second in the seventh heat of the first round and then Sebastien Beaulieu of Sherbrooke, Quebec.
With the win in Bansko, Anderson is in 14th place in the World Cup standings with 1335 points. Galmarini is the leader with 3810 points.
The legend of Jasey-Jay Anderson meanwhile continues. Anderson, who won the gold medal in the parallel giant slalom at the 2010 Olympic Winter Games in Vancouver, has now won 11 World Cup races in his career in parallel giant slalom. What is even more shocking though is that his last World Cup win in parallel giant slalom came on March 21, 2010, only a month after winning Olympic gold. The eight year gap between victories is also unprecedented.
The 2018 Olympic Winter Games in Pyeongchang will remarkably be Anderson's sixth Olympic Winter Games.
Image credit:  Christian Jansky, Wikimedia Commons.