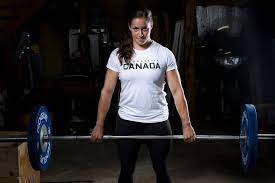 For the second time ever, Canada has an Olympic women's weightlifting gold medalist. Nine years after Christine Girard of Elliott Lake, Ontario, won the gold medal at the 2012 Olympic Games in London in the women's 63 kilogram weight class, Maude Charron of Rimouski, Quebec won the gold medal at the 2020 Olympic Games in Tokyo in 2021 in the women's 64 kilogram weight class.
Charron lifted 105 kilograms in the snatch, and then 131 kilograms in the clean and jerk for 236 total kilograms. In a dominating performance in every sense of the word, Charron posted the highest score in the snatch with her second attempt, and then the highest score in the jerk in her third attempt.
Giorgia Bordignon of Italy won the silver medal with 232 kilograms lifted. Chen Wen-huei of Chinese Taipei won the bronze medal with 230 kilograms lifted. Charron reached the podium by three kilograms. Sarah Davies of Great Britain and Mercedes Perez of Colombia were tied for fourth place with 227 kilograms lifted.
It has quite simply been an excellent first four days for Canada at the 2020 Olympic Games in Tokyo in 2021. Team Canada has now won eight medals (two gold medals, three silver medals and three bronze medals). That is the most number of medals Canada has won over the first four days in Olympic Summer Games history. The Canadians also sit ninth overall in the medal standings.
Charron entered the Olympic Games as the Commonwealth Games gold medallist in the Gold Coast and the silver medalist from the 2017 World Weightlifting Championships in the snatch in Anaheim. She is now an Olympic champ.