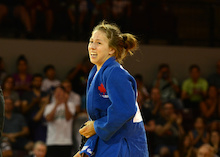 For the second time at the 2020 Olympic Games in Tokyo, a Canadian female judoka won an Olympic medal. On Tuesday, Catherine Beauchemin-Pinard followed in the footsteps of Jessica Klimait the day before, with an Olympic bronze medal in the women's 63-kilogram judo competition. To put everything into perspective, never before had a Canadian female judoka won an Olympic medal before Klimkait on Tuesday, and now all of a sudden Canadian women have won two Olympic medals.
In the women's 63-kilogram judo event, Beauchemin-Pinard won all three of her Pool B matches. She defeated Laerke Olsen of Denmark in the round of 32, Magdalena Kissakova of Austria in the round of 16, and then Ketleyn Quadros of Brazil in the quarterfinals. She then lost to Clarisse Agbegnenou of France in the semifinals, before beating Anriquelis Barrios of Venezuela in the bronze medal game. Agbegnenou, who won the silver medal at the 2016 Olympic Games in Rio de Janeiro, won the gold medal in Tokyo. Meanwhile, joining Beauchemin-Pinard on the bronze medal podium was Maria Centracchio of Italy.
Beauchemin-Pinard becomes the sixth Canadian Olympic judo medalist. She joins Klimkait (bronze in the women's 57 kg), Doug Rogers of Truro, Nova Scotia (silver, heavyweight, 1964 Olympic Games, Tokyo), Mark Berger of Winnipeg, Manitoba (bronze, heavyweight, 1984 Olympic Games, Los Angeles), Nicolas Gill of Montreal, Quebec, (bronze, men's middleweight, 1992 Olympic Games, Barcelona, and silver, men's half-heavyweight, 2000 Olympic Games, Sydney), and Antoine Valois-Fortier of Quebec City, Quebec (bronze, men's 81 kg, 2012 Olympic Games, London).