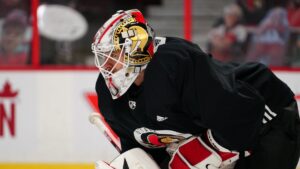 Matt Murray of Thunder Bay, Ontario recorded his 13th career National Hockey League shutout on Thursday. Murray made 31 saves as the Ottawa Senators beat the Vancouver Canucks 3-0 at Rogers Arena in Vancouver, British Columbia.
Murray made seven saves in the first period, 12 saves in the second period, and 12 saves in the third period. Three Canucks led the team with four shots on goal each. They were Travis Hamonic of Saint Malo, Manitoba, Bo Horvat of London, Ontario, and Nate Schmidt.
Offensively for the Senators, Ottawa was led in scoring by Drake Batherson, who had one goal and one assist for two points. The other Senators players to score were Connor Brown of Toronto, Ontario, and Tim Stutzle.
This was Murray's second shutout this season. The first shutout came this past Saturday, in a 4-0 Senators win over the Montreal Canadiens. Of Murray's 13 career NHL shutouts, 11 have been with the Pittsburgh Penguins, and the other two with the Senators.
In 2020-21, Murray now has a record of 10 wins, 13 regulation losses, and one loss in extra time. He has a goals against average of 3.39, and a save percentage of .892.
The Senators all of a sudden, are the hottest team in the North Division. They have won three straight games.