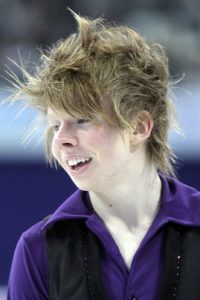 Canadian Olympic silver medalist Kevin Reynolds of Vancouver, British Columbia has announced his retirement from competitive figure skating at the age of 28. Reynolds won a silver medal for Canada in the team competition at the 2014 Olympic Winter Games in Sochi.
In the Olympic team competition from Sochi, Reynolds competed in the free program for Team Canada and finished in second place with nine points. He placed right behind Russian figure skating legend Evgeni Plushenko, who was instrumental in leading the Russians to a gold medal. Plushenko won a gold medal in men's figure skating for Russia at the 2006 Olympic Winter Games in Turin.
Reynolds was one of nine Canadian figure skaters to win the Olympic silver medal in the team competition at the 2014 Olympic Winter Games in Sochi. He was joined by men's figure skater Patrick Chan of Ottawa, Ontario, women's figure skater Kaetlyn Osmond of Marystown, Newfoundland, pairs figure skaters Meagan Duhamel of Sudbury, Ontario, Eric Radford of Winnipeg, Manitoba, Kirsten Moore-Towers of St. Catharines, Ontario, Dylan Moscovitch of Toronto, Ontario, and ice dancers Tessa Virtue and Scott Moir of London, Ontario.
Reynolds also won the bronze medal at Skate Canada in Mississauga, Ontario in 2016. He posted a score of 245.06 points to beat Michal Brezina of the Czech Republic by 17.64 points. Chan won the gold medal and Yuzuru Hanyu of Japan won the silver medal. Reynolds is to remain active in figure skating and will be coaching the sport.