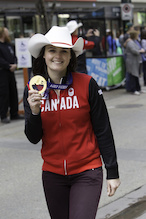 Canadian Olympic gold medalist Marielle Thompson of North Vancouver, British Columbia won a silver medal in a Women's World Cup ski cross competition in Idre Fjall, Sweden on Wednesday according to the International Ski Federation. For Thompson, it was her fourth medal of the season, and 45th career World Cup medal. She won her Olympic gold medal in women's ski cross at the 2014 Olympic Winter Games in Sochi. 
Fanny Smith of Switzerland won the gold medal. Talina Gantenbein of Switzerland won the bronze medal. Thompson qualified for the big final by winning her quarterfinal and semifinal heats.
Thompson is currently second in the World Cup standings in women's ski cross with 286 points. Smith leads with 425 points.
Of Thompson's four medals this season, she has won two silver medals and two bronze medals. She previously won a silver medal in Arosa, Switzerland on December 16, and two bronze medals in Val Thorens, France on December 20 and 21 respectively. The silver medal for Thompson will give her confidence as she prepares for the 2022 Olympic Winter Games in Beijing. 
In other freestyle skiing news, there were plans for Calgary to host part of the World Freestyle Skiing and Snowboarding Championships this winter in a bubble format. That will no longer be the case.