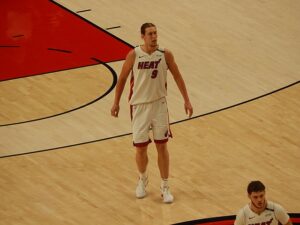 For most of Kelly Olynyk's eight-year National Basketball Association career, he has been coming off the bench, and used as a reserve player for the Boston Celtics and Miami Heat. However, in 2020-21, Olynyk of Toronto, Ontario, has started eight of 12 games due to the fact that power forward Udonis Haslem has had to miss time due to NBA coronavirus health and safety protocols. When you consider the fact that Olynyk has only started 103 of 500 games prior to this season (20.6% of his team's games), the fact he has started in 67% of Miami's games so far in 2020-21 is noteworthy.
In the 2020-21 regular season, Olynyk is averaging career-highs in points per game (11.3), assists per game (three), and blocks per game (0.9). He also has 5.5 rebounds per game, a field goal percentage of .459, a three-point percentage of .351, and free-throw percentage of .727.
Olynyk has reached the double-point plateau in points seven times this year including a season-high 19 points in a dominant 118-90 Heat win over the Oklahoma City Thunder. On Wednesday night, Olynyk showed off his skills against Canada's team, the Toronto Raptors, even though the game was played in Tampa Bay, Florida due to coronavirus rules. Olynyk scored 15 points, had eight rebounds, and led the team with eight assists in a 111-102 win over the Raptors. With the win, Miami improved to six wins and seven losses on the season.