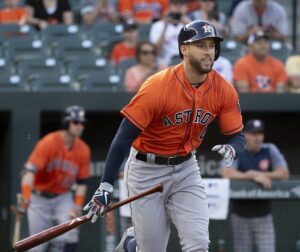 According to Shi Davidi of Rogers Sportsnet, the Toronto Blue Jays have signed free agent outfielder George Springer of New Britain, Connecticut from the Houston Astros to a six-year deal worth $150 million, making him the richest player in the history of the franchise. Springer surpasses former Blue Jays outfielder Vernon Wells, who signed a seven-year deal worth $126 million in 2006.
There is no doubt that Springer is one of the best outfielders in baseball, and has experience throughout his career as a leadoff batter, even though he only has 48 career stolen bases. In 2020, Springer batted .265 with 14 home runs and 32 runs batted in. During 189 at bats, he scored 37 runs, and had 50 hits, six doubles, two triples, one stolen base, 24 walks, a .359 on base percentage, .540 slugging percentage, and 102 total bases.
A three-time all-star for the Astros in 2017, 2018, and 2019, Springer's best season came in 2019, when he had career highs in batting average (.292), home runs (39), runs batted in (96), on base percentage (.383), and slugging percentage (.591). Over the last seven years, Springer was a fixture in the Astros lineup.
One needs to legitimately ask the question what would Springers' statistics had been if it was not for the cheating scandal that rocked the Astros and Major League Baseball in recent years. When Houston used technology to steal signs in winning the 2017 World Series, it put a black mark on Major League Baseball. Springer not only won the World Series with the Astros in 2017, but was the World Series Most Valuable Player too.