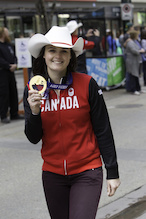 Canadian Olympic gold medallist Marielle Thompson of North Vancouver, British Columbia, and Kevin Drury of Toronto, Ontario, each won World Cup ski cross medals in Arosa, Switzerland on Wednesday. Thompson won the silver medal in the women's competition, and Drury won the bronze medal in the men's competition.
Thompson, who won the gold medal for Canada in women's ski cross at the 2014 Olympic Winter Games in Sochi, has now won 42 career ski cross medals dating back to 2012. In the night race in Arosa on Wednesday, Fanny Smith of Switzerland won the gold medal, and Talina Gantenbein of Switzerland won the bronze medal.
With the silver medal, Thompson is now in fifth place in the World Cup standings with 86 points. Smith leads with 180 points.
Drury has now won 12 World Cup medals. Viktor Andersson of Sweden won the gold medal and Ryan Regez of Switzerland won the silver medal. Sweden won three of four possible gold medals in the two-day World Cup ski cross events in Arosa. David Mobaerg won the men's World Cup on Tuesday, while Alexandra Edebo won the women's World Cup on Tuesday.
With the bronze medal, Drury is in seventh place in the World Cup standings with 61 points. Mobaerg leads with 150 points.