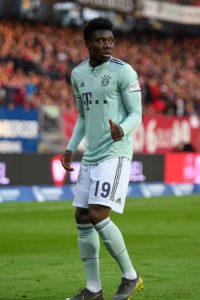 Alphonso Davies of Edmonton, Alberta became the first North American soccer player to be part of FIFPRO World 11 on Thursday according to Neil Davidson of The Canadian Press. He also became the third youngest player to receive the honour. Players who are selected for FIFPRO are voted by 15,878 male professional soccer players according to Ari Lijenwall of Major League Soccer.
Davies, who plays for Bayern Munich, was one of four defenders selected to the team. The others were England's Trent Alexander-Arnold of Liverpool, Spain's Sergio Ramos of Real Madrid, and the Netherlands' Virgil van Dijk of Liverpool.
Seven other players were selected to the team. They were Argentina's Lionel Messi of FC Barcelona, Poland's Robert Lewandowski of Bayern Munich, Portugal's Christiano Ronaldo of Juventus, Germany's Joshua Kimmich of Bayern Munich, Belgium's Kevin De Bruyne of Manchester City, Spain's Thiago Alcantara of Liverpool, and Brazil's Alisson Becker of Liverpool. Messi, Lewandowski, and Ronaldo are forwards. Kimmich, De Bruyne, and Alcantara are midfielders, and Becker is a goalkeeper.
Davies is currently 20 years of age. The two younger players to receive the FIFPRO World 11 honour in the history of the award were Kylian Mbappe of France, who was 19 years old, when he received the honour in 2018 with Paris Saint-Germain, and Matthijs de Ligt of the Netherlands, who was 20 years old with Juventus in 2019. de Ligt was four days younger than Davies when he received his award.
During the 2019-20 soccer season, Davies had three goals and four assists in 29 Bundesliga games. He also had four assists in eight Champions League games. Bayern Munich won the Bundesliga and the Champions League.