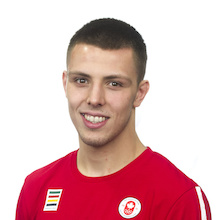 Arthur Margelidon of Montreal, Quebec has cracked the top 10 in the International Judo Federation world rankings. On Saturday, Margelidon won the silver medal in the men's 73 kilogram division at the Tokyo Grand Slam, and moved into 10th in the world for his weight class.
It was the first medal in a grand slam event in Margelidon's judo career. Margelidon won Pool D by beating Mohammad Mohammadi Barimanlou of Iran, and Tommy Macias of Sweden.
Margelidon got a lucky break as he did not need to go up against reigning Olympic gold medalist and two-time world champion Shohei Ono of Japan, who pulled out because of a knee injury. Ono is also a two-time world champion having placed first at the 2013 World Championships in Rio de Janeiro and the 2015 World Championships in Astana, Kazakhstan. Macias is a bronze medalist from the 2017 European Judo Championship in Warsaw, Poland.
Margelidon then got by Rentaro Nogami of Japan in the semi-finals before losing to Arata Tatsukawa of Japan in the gold medal match. Joonsung Ahn of South Korea and Soichi Hashimoto of Japan shared the bronze medal.
The silver medal for Margelidon will give him confidence as he prepares for the 2020 Olympic Games in Tokyo. It is also very beneficial for Margelidon that he won his grand slam silver medal in the same city that will host the next Olympic Games.